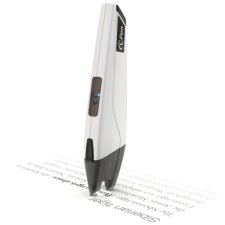 C-Pen 3.5

Pen Scanner C-Pen 3.5:
The pen scanner C-Pen 3.5 will make your life easier and save a lot of time.
C-Pen 3.5 is the most advanced solution:
it has a USB port (via USB cable) and integrated Bluetooth.
He also has a replaceable battery, so it works to fill via Bluetooth without cable.

Thus, the C-Pen 3.5 is ideal for users who want to use the full functionality of this handy scanner in pen format with both their desktop computer and a mobile device - and with devices running Windows, Mac OS X and Android OS.

An Android app for the C-Pen 3.5 can be downloaded from Google Play Store on your Android device.

The C-Pen transmits read texts and numbers directly on your PC. Simply take the wand over the word or the desired line and immediately the text appears as good as any installed application in. (Eg Microsoft Word, Excel, Wordpad, Notepad, ..).

The C-Pen digitized quickly and easily printed text and numbers with a scanning speed of up to 15cm / s.
The data is transmitted via USB - cable.

It can read texts and numbers in most fonts with a point size of 5 to 22 (incl. Bold and Italics). He recognizes 200 languages (incl. Special character mode), including Latin, Cyrillic or Greek characters.
The device also reads barcodes and special banking fonts: OCR-A, OCR-B and MICR (E13B).

With its ergonomic design the C-Pen fits perfectly in the hand and is designed for both left- and right-handed.